BIOPRESERVATION
Probiotics at the service of food safety
The effective way to maintain trust between consumers and food processors.
100% NATURAL
Probiotics to fight pathogens such as Listeria, Salmonella or E. coli.
HUMAN SAFE
Accredited by Health Canada and the Kashrut Council of Canada 
and soon by the FDA.
MORE EFFECTIVE THAN CHEMICALS
The trials carried out in partnership with Fumoir Grizzly and Université Laval show that the BacM35 product allows a 6Log Listeria reduction or is 99.999% effective.
A REVOLUTIONARY METHOD RIGHT FROM HERE
A unique process developed at Université Laval by graduate students.
HOW DOES IT WORK?
APPLICATION DIRECTLY ON FOOD
A simple process, the secret is in the recipe. Fumoir Grizzly relies on Laboratoire Innodal for the production of the new biopreservation agent to effectively inhibit pathogens and avoid any risk of recalls.
INTRODUCTION
Here's Laboratoire Innodal
From the entrepreneurial cohort of Université Laval, Laurent Dallaire explains the mission of the company (french version only).
MISSION
Innovate in food conservation by designing industrial processes from syntheses created in the laboratory to become a partner of choice in the resolution of issues related to food security
SHORT TERM TARGETS
Produce efficient bioconservation agents, offer consulting services to optimize food processing methods and set new standards in terms of quality control
LONG TERM TARGETS
Develop our expertise in biopreservation and innovate continuously by diversifying applications in search of new markets
OUR BACKGROUND
WHO'S THE HEART OF LABORATOIRE INNODAL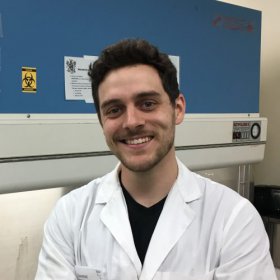 I hold a bachelor's degree in biotechnology engineering from the Université de Sherbrooke, where my entrepreneurial passion in the field of biotechnology was born. It was during my master's degree in food science as part of the METABIOLAC Chair at Université Laval that the good entrepreneurial opportunity came up. Then I worked on the industrial scale up of production processes for these compounds allowing biopreservation and a first partnership with Fumoir Grizzly.
I graduated from Université Laval in biochemistry entrepreneurial profile, now finishing my doctorate in pharmaceutical sciences where I filed a patent with the university that unblocks the synthesis of a new generation of antibacterial agents for application industrial. This technology provides a pure product which is easier for scaling and lower costs. The technology makes it possible to produce various bacteriocins targeting various pathogens without having to cultivate the bacterial strains. This partnership extends the scope of Laboratoire Innodal by offering the action of bacteriocins by fermentation or synthesis.